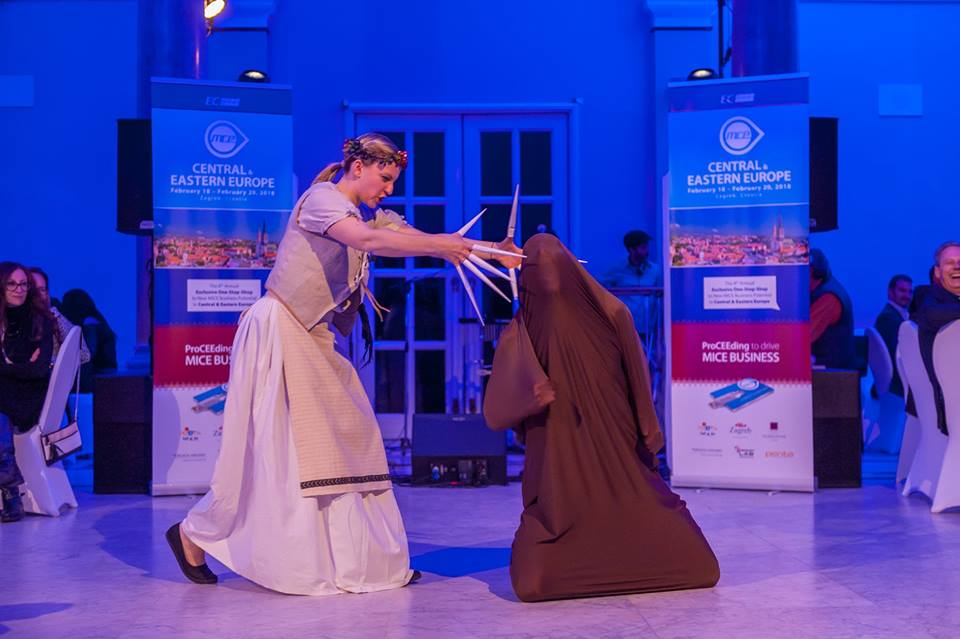 Istra Inspirit was presented to the MICE sector at the Mimara Museum in Zagreb
Istra Inspirit was presented to the MICE sector at the 8th MICE Business Energizer Forum for Central and Eastern Europe in the Mimara Museum in Zagreb. The event  was organized by the Europe Congress from Prague from 18th to 20th of February 2018.
Istra Inspirit was presented through stories, myths and legends of Istria and Croatia,  as a part of the performance the two actors who brought closer the legend about Perun and Veles from Slavic mythology as well as the legend about the black queen that created the Plitvice Lakes and the story about the 1000 Croatian islands, while Istria was presented through Istrian customs and a story about fairies that built the Arena. Istra Inspirit was presented by Frano Novljan and Jasna Petković. Large audience made up from representatives of congress and event agencies from Norway, Sweden, Germany and Great Britain reacted positively to the performance of Istra Inspirit and were delighted with the innovative approach to storytelling presented by Istra Inspirit.This experience is another proof and confirmation of the long-standing successful work of Istra Inspirit and the orientation towards B2B segment of organization and sales within MICE offers.
Photo credit: Europe Congress
Istra Inspirit programs can offer congress guests a slightly different experience of presentations of Istria and Croatia as a destination and are as such interesting to the organizers of congresses, incentives and events.