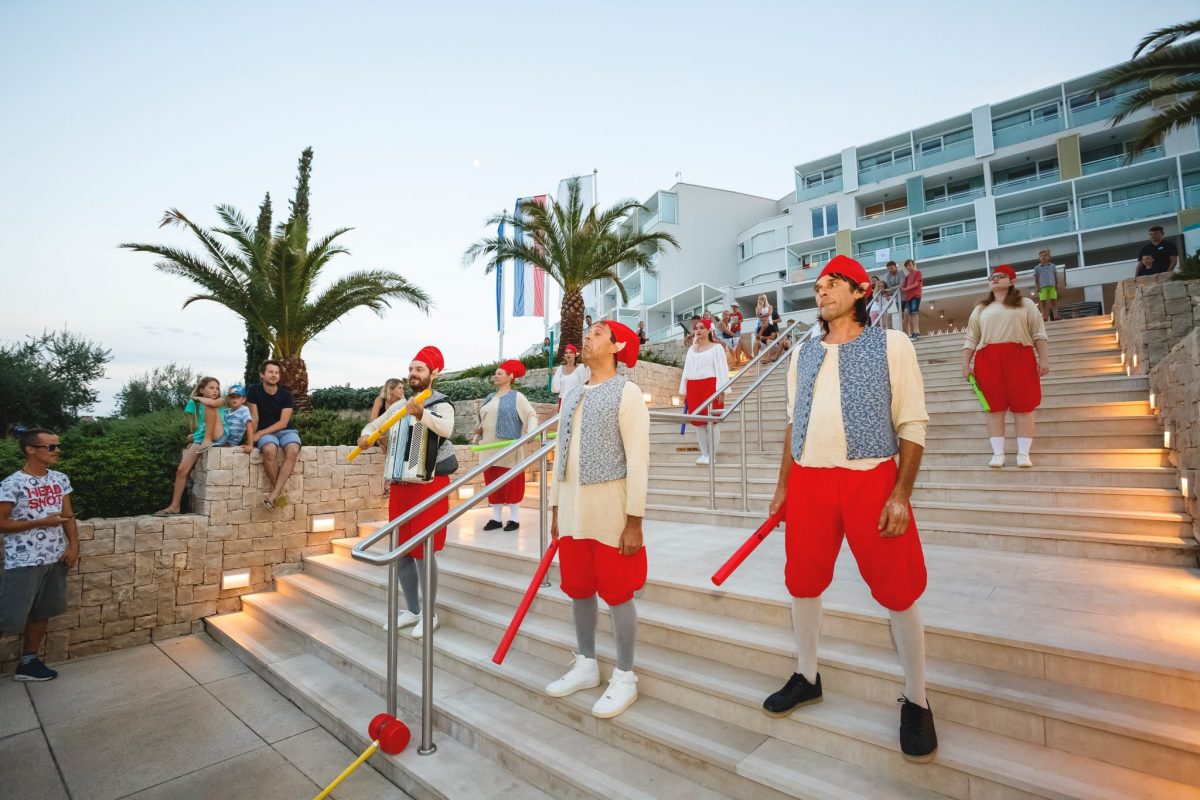 Istra Inspirit opened the third edition of the Poreč Open Air Festival and took the audience on a journey with the characters of Istrian mythology
On the island of Sveti Nikola, 1.07.2018. the third edition of the Poreč Open Air Festival began with a walking, interactive fun-educational experience by Istra Inspirit, named as Magical Island of Sveti Nikola.
The performance started in front of Valamar's Isabella Island Resort, where visitors were welcomed by well-known Professor Epulonius de Histri, who this year wants to find at least one of the many hidden Istrian treasures. He was accompanied by playful dwarfs Macmalići from Labin coal mine, with whom visitors could dance and sing their favorite songs. Apart from them, the walk around the island revealed  a multitude of other characters, such as the enchanted snake – queen, sea mermaids who swam around the island,  a pirate who told the story of the stolen bells thrown into the sea near Poreč, fairies with who the visitors built the Arena, Orko who has turned everything upside down and many characters from the magical forests which introduced the audience to te magical world of fairies and elves. The performance of Istria Inspiria ended in a park in front of the Valamar Isabella castle, where the audience had the opportunity to skip over the bonfire with Macmalići, with which they stayed forever connected with this Istra Inspirit experience. Contribution to the successful performance was also given by a large number of actors, dancers, musicians and acrobats: Frano Novljan, Šandor Slacki, Sedina Cerovac, Ivona Bulešić, Jasna Petković, Zoja Poropat, Dejan Gotal, Samantha Kelemen, Martina Božić, Kristijan Dellabernardina, Andrej Pezić, Nataša Dragun, Luka Barešić, Amadea Družetić, te Anamaria Badurina, a sve pod redateljskom palicom Petre B. Blašković.
Interactive walks with Istria Inspirit continues every Sunday during July and August, ending on august the 19th, and starting at 20.30.Walks around the island of Sveti Nikola provides domestic and foreign visitors to learn about the characters of Istrian mythology, interaction, entertainment and emotion told through the manner of storytelling.
The entrance is free for all visitors,  but due to limited capacity, visitors have to book their place on the official website of Poreč Open Air Festival: http://porecopenair.com/.
Photo credit: Robert Marić